Mon, Jan 26, 2015 at 10:19AM
---
Brett Maugeri has announced that his company, Encore Stone Products, will be participating in the MiaGreen Expo & Conference, billed as the "Green Convention of the Americas," featuring Green Building & Remodeling, Solar, CleanTech, recycling, and sustainable solutions technology, products, programs and services, January 26 and 27 at the Miami Beach Convention Center in Miami, Florida. The MiaGreen Expo & Conference is the only event in the United States providing access to the ever-growing, non-stoppable green, renewable and sustainable markets of all the Americas. The annual, business-to-business event is one of a kind and grows bigger and better each year. MiaGreen combines a major trade show with front edge extensive educational and networking programs. The upcoming 4th edition, the "Green Convention of the Americas," January 2012 in Miami, is supported by prestigious industry sponsors, partners, and hemispheric institutions.
The MiaGreen Expo features technology, products, services, know-how, education, certification, incentives, sustainable operations and management, business opportunities, financing and professional services. Scheduled program topics include Green Building and Remodeling, Green Building Opportunities, Green Innovations and Technology at Hand, Green Master Planning, Renewable Cleaning, Introduction to Solar, Upscale Facility Maintenance and more.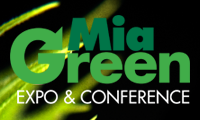 ---
Bookmark & Share
---
User Comments
Be the first to comment on this post below!
Most Popular Articles